Digital Photo Viewer (Sandisk)
Pricing: Makro : 90 euro
See your favorite digital photos on TV. Instantly!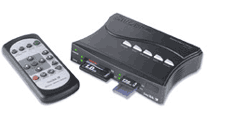 What is the Digital Photo Viewer?
Now viewing and sharing digital photos is as simple as watching TV. SanDisk, the world leader in flash data storage, introduces Digital Photo Viewer-- the fastest, easiest and most convenient way to view and share digital photos with family and friends. All in the comfort of your living room, family room, den, or any other place people like to watch TV.
Memories are made to be shared. With family and friends.

SanDisk makes it easy. In more ways than one.
Easy to use (simply plug it into the TV, sit back and enjoy)
Easy to learn (no PC, laptop or software required)
Easy to view (the bigger the TV screen, the bigger the photo)
Easy to move (carry it from room to room--it goes anywhere)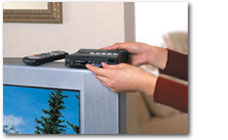 Small size. Big benefits. Outstanding value.
SanDisk's Digital Photo Viewer comes with a unique combination of innovative features.
Small and compact (about the size of a VHS tape, 32 x 144 x 103 mm) * Lightweight (take it anywhere)
Convenient (the best way to show digital photos in the home)
Compatible (supports all popular digital camera media formats, including CompactFlash® Type I and II, SmartMedia™, Memory Stick®, SD™ and MultiMediaCard)
Supports JPEG files (the most common form of file format used by digital still cameras) at resolutions up to 6 megapixels
Displays multiple languages (English, French, Spanish, German, Italian, Chinese and Japanese); Composite and S-video output; also switches between NTSC and PAL formats
Automatic Slide Show Delay (from 0 to 60 seconds; offers fast photo-to-photo loading time)
Remote Control (view multiple pictures in preview mode, delete, rotate and zoom)
Backed by SanDisk's industry-leading two-year warranty.